The vintage years of Last of the Summer Wine
Holmfirth comedy comes to an end after 37 years of laughs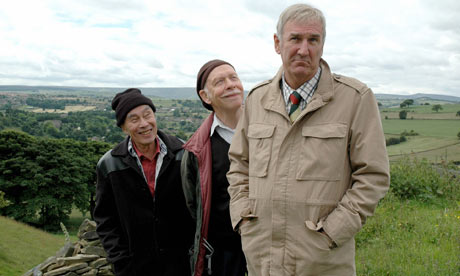 There are valleys in Georgia and the Hindu Kush where people live to an immense age. In the hills of England's north country the same blessing falls on TV serials. Heartbeat, Herriot and most sturdily of all, Last of the Summer Wine. Never did a vintage take so long for the final drops to drain.
Now they will, with the final six Lasts to be broadcast this summer, 37 years after Roy Clarke sold a single pilot to the BBC – which disliked the name so much that the working title was changed to The Library Mob. The library in Holmfirth was where the saga's scheming ancients got together, under the eye of its lecherous manager, Mr Wainwright – a tease, I'm certain, of my saintly Methodist father, then the local Liberal candidate. Clarke's capture of Summer Wine country's Labour stronghold wasn't to the liking of the late Bill Owen, Compo for 27 years and a lifelong socialist. Yet his comic writing has been so enduring that a statue of Bill is planned for Holmfirth (albeit constantly knocked back by Summer Wine-style mishaps).
A second Wainwright, the sly junk-shop owner Aunty, continues her dodgy deals in Clarke's 31st and final series of scripts. Digs like these have given edge to the programme's dollops of flat-capped, cobbled nostalgia, but more recent northerners have increasingly been tempted to switch channels.
Veering at times towards Monty Python's Four Yorkshiremen, the Summer winos were then riotously outflanked by The League of Gentlemen's Royston Vasey. But mock them how you will (and in 2003 the series was the programme Radio Times readers most wanted cancelled), Summer Wine's makers have done economic wonders for the South Pennines; as much through the ravishing scenery as the cast.
As with Heartbeat and All Creatures Great and Small, the cameras tell the truth, but more surprisingly. The other two are set in national parks. Summer Wineland is just a few miles from Huddersfield and Oldham. But Holmfirth has become a second Haworth and scores of other film-crews – shooting projects ranging from My Summer of Love to forthcoming Wine tributes by Countryfile and Songs of Praise – have discovered one of Britain's loveliest sets. Come and, as the road signs said in Royston Vasey, which made joyous use of Marsden near Holmfirth, you'll never leave.
SOURCE:
http://www.guardian.co.uk/media/organgrinder/2010/jun/07/last-summer-wine